Welcome to Eastern Washington Airsoft
We are a local Airsoft Community in the greater Spokane/Eastern Washington area looking for people who love to play. We are a group assembled by players, for players not wanting to spend any extra money to play. We have no uniform, weapons or gear requirements, except for EyePro.
2-02-2014
1-28-2014
We would like to welcome back to the Game Admin ranks Tin man and K3N. They both have been a important part of the team and we are looking forward to having them both return.
As well I would like to welcome all the recent new members to EWA. We are looking forward to having you on the field and becoming an member of our community.
We are looking forward to another great year and working alongside with other airsoft communities and airsoft vendors. Make sure to watch the forums for upcoming events and weekend PUG's. You can also check us out at https://www.facebook.com/EasternWashingtonAirsoft .
1-06-2014
Make sure to checkout Task Force Kilo's Operation Tiger's Gate. You can locate the signup and operations information HERE.
12-31-2013
Well 2013 is coming to a close. Thank you to all the supporters for keeping us alive another year. We are looking forward to seeing what we are going to be able to do this coming year. I wanted to thank Airsplat and Evike for supporting us this year.
Happy New Year Everyone!!! Here's to a great 2014.
12-24-2013
From EWAirsoft to the community, have a safe and fun Merry Christmas.


08-20-2013
When: September 14th, 2013 Where: 3809 Durbin Street, Irwindale, CA 91706 Time: From 10:00 am to 5:00 pm PST
Join us for our Los Angeles Store Grand Opening!
We will have over $10,000 worth of prizes with raffles throughout the day and a chance for you to WIN AN ECHO1 MINIGUN!
The first 100 to arrive will receive a free raffle ticket and an Airsplat Care Package!
Every purchase will come with a free gift and up to 80% off!
Bring your family and friends and enjoy the music, food and tactical missions with lots of prizes!
Test your guns at our shooting range and learn some of the best tactics during our onsite demo!
Door buster deals will run from 10:00am to 12:00pm and will include many of the most popular guns at discounts never seen before or take advantage of our one day specials when you buy $100 ($25 off), $200 ($50 off) or $400 ($100 off).
The event will also feature a Vendor Village where you will have the opportunity to talk to some of the most popular brands in the industry, fields and airsoft teams!
We will also have many games with other amazing prizes!
RSVP on Eventbrite to receive a free raffle ticket! http://airsplatla-efbevent.eventbrite.com/
Join our Facebook Event here and share it with your friends here: https://www.facebook.com/events/622687677763290/
Can't attend our Los Angeles Grand opening but are in the Seattle area? Join us for our Anniversary sale going on at the same time! https://www.facebook.com/events/294035420735809/. Get your free raffle ticket; https://airsplatseattle.eventbrite.com/
What would you like to see during our grand opening!? Let us know below!
7-20-2013
Well to our next EWA Operator introduction:
Name: Cadian (Josh)
Playing Since: 2004...
Teching Since: 2009
Team: T.R.A.P. 18, 2012 - present
Teams: H.A.F. 2011
Armory: | Cyma RPK | Cyma AK74SU | Cyma M14 | KWA ATP |
Uniforms: MARPAT Woodland, BDU Woodland, Flektern Desert
Cadian started airsofting informally around 2003 with a few friends. They started with springer's and cheap AEG's which made me immediately fall in love with the sport. He progressed at learning more about airsoft and got into CQB style play more than field buying my first "real" airsoft gun around 2006 which was the G&G UMG and loved every minute of it.
In 2011 Cadian discovered EWA threw a random craigslist meeting with Gravy from H.A.F. who still blames me to this day for that faulty A&K SVD I sold him He started to show up to EWA games and play more and more until most people new who he was (the first guy to complain about the walk and die). He was offered a game admin position which he gladly accepted. He wants to make a safe community were all players can airsoft without feeling like they will be singled out or turned away unless they break the rules set in place.
07/31/2013
New Users - Due to a recent spambot attack, all new users will be challenged to enter a Captcha phrase more often. This additional layer of security is lifted once a user makes three posts. Furthermore, users logging in through an IP registered to the following countries are no longer welcome on the site:

- China
- Russia
- India
- Nigeria
- Poland
- Ukrane

The spam should be dying down while those accounts that have already been made but not yet E-mail verified will still be able to post once they visit the E-mail verification url.

Thank you for your understanding.
-Napster
7-20-2013
Well to our next EWA Operator introduction:
Name: Sabin A.K.A Napster
Playing Since: 2006
Teching Since: 2012
Current Team: T.R.A.P. 18, 2012 - present
Past Teams: Knights of Odin 2006 - 2008, Burst Fire 2006.
Armory: | KWA SR-12 Sniper | WELL MB03/VSR-10 | G&P M4A1 | ICS MP5-SD6 | KWA M9 PTP |
| "powder" Thunder-Bs | Rubber Knife | Smoke Grenades |
Uniforms: MARPAT Woodland, MARPAT Desert, Ghillie, The Environment
Napster started playing in 2006 with "springers" with friends from high and founded team Burst Fire as C.O. Shortly after he got his first sportsline AEG, it was a chinese M4, then he discovered the old Spokane Airsoft and quickly stepped up to his first respectable gun, an ICS MP5-SD6 from Airsplat. It is still his most reliable gun to date.
In 2008 he enlisted in the U.S. Navy and spent nearly 4 years overseas. He returned in 2012 to find that SA has changed, and found EWA which reminded him more of the way things used to be (smaller tight-knit laid back community where everyone knew each other, pick-up games every weekend). He designed the new site and was made a Game Admin. He was invited to join T.R.A.P. 18, founded by former members of the Spokane Devil Dawgs / SARC when the team disbanded with the old SA. Some of the players he used to shoot are now his teammates.
7-14-2013
Yesterday EWA raffled off an MP5 that was sponsored by Evike.com. I first want to thank Evike.com for providing this MP5 and then I would like to thank everyone in our Airsoft community for being involved. So at yesterday's game we held the drawing and we are happy to announce that Cole Clark a.k.a Warcheif won.
Special thanks to Nguyen for providing the photos.
7-06-2013

Make sure to checkout the EWA MP5 giveaway. Drawing is being held July 13, 2013 sponsored by Evike.com. Checkout the details at July 13 - Raffle giveaway
6-13-2013
We started to introduce the EWA Admins and Game Admins a while ago, sorry for the delay. It is time to introduce the next person. I would like to introduce KJ, one of EWA Admins.
KJ has been playing airsoft for 9 years. The last 3 ½ years he has been an EWA member. He owns the following weapons, Echo 1 G36 (the beast), Classic Army M249 and a shot gun. KJ started ICF team based out of Idaho then in 09 KJ started KSK with 8 members on the team. As we continued to grow KJ became an important part of the Admin team. He continues to help with our growth and management of this community.
4-28-2013
Thank you to everyone who came out to the EWA & Palouse Airsoft hosted event this last Saturday. It was great success and we host 60 people at this game. This was also our kick off to the MP5 giveaway which has been sponored by Evike.com. We are looking for to the nxt game that we host together.
04-26-2013
AIM TOP MP5A5 Giveaway Sponsored by Evike.com For more detail checkout the forum by clicking on
04-08-2013


EWA is happy to announce a joint event with Palouse airsoft April 27th, 2013. You can get more details by reading Here.
03-01-2013
12/21/2012
I wanted to take a moment and wish everyone in the community a Happy and Safe Holiday. We are looking forward to seeing everyone back on the field after Christmas / New Years. Merry Christmas Everyone!!!
Thanks - Oldarmy
11/26/2012


Congratulations to Tyler & Aaron! This was the first Recon game hosted and our two winners were provided prizes from AirSplat.com, Sunday's game hosted by Doc.Pest.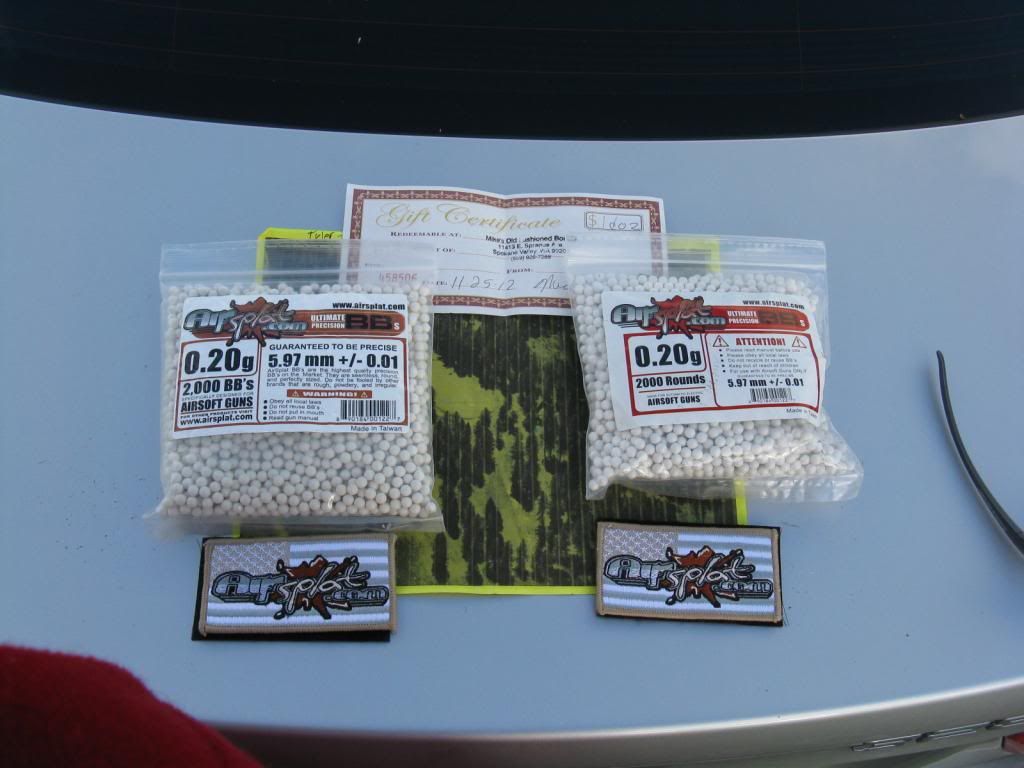 11/24/2012


First I hope everyone had a great Thanksgiving. I know I did. Now for some GREAT NEWS! EWA will begin using the old 9-mile field very soon. This field offers a much more diverse terrain, but with more diverse terrain come more diverse hazards. For more information and directions to the field click HERE.
-Napster
11/18/12
Another week gone by here in the EWA. We had a lively game this week were we tested out some new scenario ideas that I think have a future in our game line-ups but need a little tweaking. One we did not get to was the bomb game with our great bomb prop, provided by HAF, don't worry we will be sure to work this into a game in the near future. Also a thanks to DOC PEST for taking some pictures this past weekend, you can check all fo them out here.
Many of you may have noticed that there are some great deals going on in the airsoft world this upcoming week. The best ones I have seen so far have been on EVIKE, with deals as good as 75% off of aegs and other items as well as some great coupon codes. AIRSOFTGI has some great deals coming up but for the most part seem to be reserved for Black Friday and Cyber Monday, but they also have some awesome coupon codes running this week. AIRSPLAT doesn't seem to ahve any great sales but they do have some fantastic coupon codes as well, including one that is 21% off and free shipping on any order as low as $89. Make sure to check these website out and see what they have each day tis week.
Next week marks the GAME ADMIN debute of DOC PEST as host. Make sure to check out his game thread here and we hope to see you out there! Also we will be continuing our "Get to Know Our Admins" articles this coming week with our next profile on KJ.
PLAY SAFE. PLAY HARD. PLAY EWA.
TIrion
11/16/12
Make sure to Pre-order your new EWA-Patch before Nov 30th. Ckeck it out at; Pre-Order EWA Patch
11/12/12
Long time no see!
With the slow season coming we will be starting a new series here on the newletter, a "Get to Know" if you will, of all of our Admins and Game Admins that volunteer their time to help make the EWA what it is and to continue to help it grow.
For this first installment I thought we would start with the godfather of our community. A gentleman that helped found our community, and has always been present in one form or another to make sure that it continues to progress in the right direction. OldArmy. He served our great country for 14 years in none other than the U.S. Army. His stepsons introduced him to airsoft 5 years ago, while playing with a small nameless group that didn't last long. Which is when OldArmy and 4 other friends, founded the EWA. He is a Spokane native and has 8 children and has been on more airsoft teams than I can count (you know at some point its not them its you :) ) .
OLDARMY
Current Team - H.A.F.
Rank - Commando

Loadout
Main Weapon: KWA BR M16
CQB Weapon: KWA M4 CQB / UTG Shotty
Sidearm: WE Hi-Capa
Spare Weapons: CA M15A1 & CA SR-25
Thank you for reading this week's newsletter and always,
PLAY SAFE
PLAY HARD
PLAY EWA
Tirion
---
11/01/12
We are working on a few new website features. Hope you like them. More information HERE
-Napster
---
10/27/12
What a day! First off a big a thank you to Airsplat for sponsoring our game today we look forward to the continued growth of our relationship. Another big thank you to Jeremy Vermilion for taking pictures today, we greatly appreciate it. Finally a big thank you to everyone that came out today especially those of you whom dressed up. We had a blast, it was hilarious to see 2 pairs of Mario and Luigi running through the woods shooting up the place. A shout out to our costume winner Sub-Zero. Great work those contacts were awesome! We have received good feedback about this event so look out for it next year to be even bigger and better. Make sure to check out the all the pics from the day here and on our Facebook page. Check back soon for details on our next game.
Play Safe, Play Hard, Play EWA
Tirion
---
10/22/12
Hello EWA!
Here is our first weekly update on the Home page. Make sure to check back once a week to see whats new in EWA and Airsoft around the world!
This week's game is our much anticipated Ultimate Showdown Halloween Game! Make sure to check the EVENTS page to sign up. For this event imagine the most hardcore mil-sim game you can.... this will be the exact opposite of that. We will have superheroes, goblins, ghosts and other great costumes running rampant through the battlefield. It will be a sight to be seen for sure! We will have a costume contest with PRIZES!!!! Thats right a free event with prizes. What more could you ask for. So make sure you dress up and join us out at the Barn this Saturday for a great time!
If you haven't made an account on our site please do so, we want to hear from you! If you have made an account make sure to introduce yourself so we can say hi, and sound off to let us know what you want to see on the site, this weekly update, and at our games. We want and appreciate constructive criticism.
PLAY SAFE. PLAY HARD. PLAY EWA.


Tirion